'Illuminations' - Musical Program by Shubha Mudgal
Image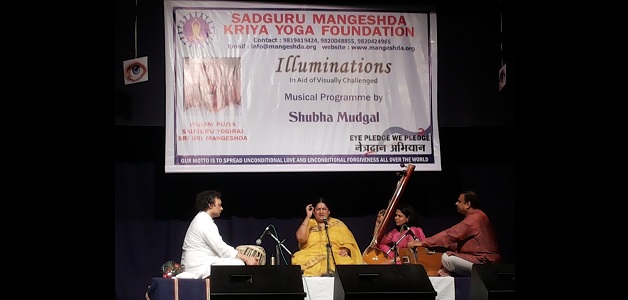 'Illuminations' - Musical Program by Shubha Mudgal
In Aid of visually challanged
Yet another fabulous evening... a one worth remembering the for a long long time. Sadguru Mangeshda Kriya Yoga Foundation had organised a Special program for the aid of visually challenged viz. ILLUMINATIONS under its ongoing Eye Donation Awareness campaign 'EYE PLEDGE WE PLEDGE' on Saturday the 22th March 2014, at Rangsharada Auditorium, Bandra, Mumbai.
Speaking on this occasion, Sadguruji explained how the Foundation started the Eye Pledge campaign with a target of registering 1 lakh pledges and how the target was quickly achieved through an overwhelming response from the public. And now over the last 3 years since the campaign started, the Foundation has managed to garner more than 23 lakh pledges.
Sadguruji also said "If we continue to get such response, I am sure corneal blindness will be eradicated from India one day. There is a lot of mis-conception & superstitions about Eye Donation in India and through this campaign, we are trying to overcome the same and reach out to maximum people. I am thankful to each and every person who has joined us in this noble cause.". Sadguruji also talked about His recent illness and the way He fought back the same.
Dr. V N Shrikhande, Eminent Surgeon was the CHIEF GUEST on this occasion. In his speech, he lauded the efforts taken by Sadguruji towards this noble cause and stressed that India needs people like him who work relentlessly for the betterment of the country. He described Sadguruji as energy spreader, positivity spreader.
Smt. Hansaben Mehta, Shri Subhash Mayekar(Chairman, Shri Siddhivinayak Mandir Trust) and Sujata Mehta(Eminent Actress) also graced the occasion.
Many dignitaries from various fields also attended the function in support of the cause. A special souvenir for the Foundation's Eye Pledge campaign was also released on this occasion.
The Students of Kamala Mehta Girl School For the Blind, Dadar displayed their wonderful ROPE MALLAKHAMB Skills and won the hearts of all present. Truly it was an outstanding show and one wondered how all of them were so divine & perfect in their performance. Lots and lots to learn from them.
Later, the evening belonged to Padmashree Smt. Shubha Mudgal who presented an outstanding concert and enthralled the audience. It was a great evening in support of a noble cause. She was supported by Dr. Aneesh Pradhan on Tabla & Shri Sudhir Nayak on Harmonium. The auditorium was packed and this concert was house full. One did not wish to leave the auditorium, but alas everything comes to a VISHRAM!!
Kudos to the entire team who worked for the success of this evening. From backstage to each and every individual for his/her efforts. Heeraji was superb in her anchoring, as usual. Thank You Sadguruji for all this. It could not have been possible without Your grace & blessings. Jai Ho! Jai Gurudev!!