How To Be Happy
An awesome 3 ½ days (29.12.2018 to 01.01.2019) of spiritual bliss and heavenly atmosphere to celebrate the festive season of Christmas and New Year's Eve. With Sadguruji's blessings, 2018 ended on a high note and 2019 began with a big bang for all the lucky participants!! "How to be Happy" is a unique & signature programme conceptualized and conducted by the Revered Sadguruji - Sadguru Yogiraj Sri Sri Dr Mangeshda, The entire 3 ½ days has been designed with lots of fun, frolic and happiness with a clear spiritual undercurrent to it. Each activity is designed by Sadguruji to harness the hidden potential of each and every participant and bring out the best in them. The entire programme dwells into our daily life, with a lot of activities that keeps the mind fully occupied in positive thoughts and stops the influx of the constant negative thoughts, that we all are used to.
The pristine and natural surroundings of the Spiritual Village (Ashram) on the banks of the beautiful Amba River, surrounded by beautiful mountains greets you with fresh waves of soothing breeze, and sets up the tranquil ambience to rejuvenate oneself. Sadguruji in his impeccable style and profound connect tailored the programme uniquely for all the participants. He was at the Ashram along with the participants taking care of each and everyone's needs. He made sure that all the arrangements were done beforehand with utmost care. The organizers and volunteers made sure that all the participants were well guided and informed about the place so that everything went smoothly. All participants felt at ease the moment the session began.
These 3 ½ days were not only an unique and divine experience in the holy presence of Revered Sadguruji, but a bountiful of learnings from each and every event as well as the peer groups( age ranging from 20 months old to 86 yrs young), coming from various parts of the Country . Each of the participants had something to learn as well as teach when they were put in different groups. There were so many activities that were conducted which were unique, right from the start of the programme, where each of us shared the 1 best thing of the year 2018, which made all of us look at only the brightest side of life that passed in the year, the beautiful nature walk, registering the beauty of the flora and fauna at the beautiful village, the musical antakshari, the melodious satsang every evening that charged the energy levels of each participant. The candle lighting game was another test of precision and grit for each of us, very interesting and intense! One more unique activity was the Snake and Ladder game which reminded each of the kriyabaans about their school days. In every HTBH, Sadguruji brings some novelty and this activity was one of them. The other activity that tested team bonding and mental strength was the water balloon game! "Outstanding" would be a small word for this game. This game was a perfect reflection of team spirit and the way we hold on to the precious gifts of life with care and precision.
Image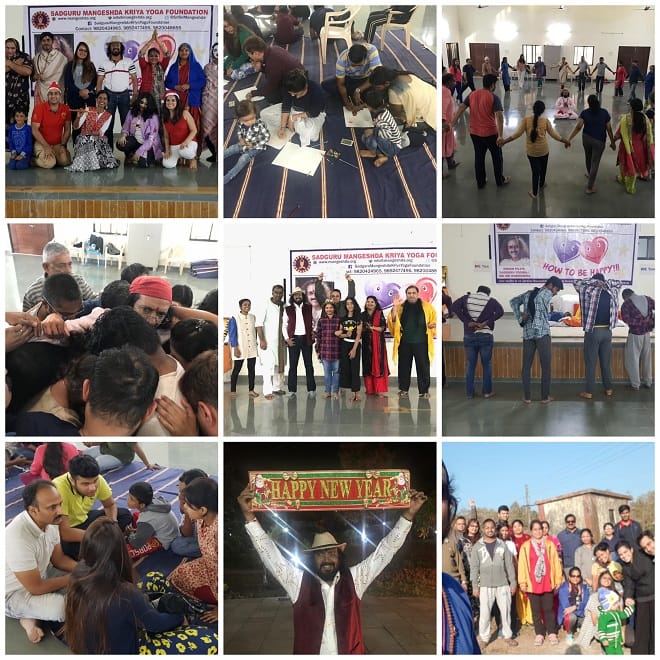 This "HOW TO BE HAPPY" was special for one more reason. It was for the first time, that HTBH witnessed a few new teachers. Sudeep Sir and Shubham Sir taught the audience as to how to go about Origami(Japanese art of folding paper). While Sudeep taught us to make a tulip flower, Shubam showed us how to create a paper plane. Mahima Miss gave insights into fitness through dance and Arya Miss taught us a melodious bhajan. Sadguruji, also conducted an intense session of the Divine Angel card. It gave very crisp & clear insight to not only the chosen participants, but also for everyone present in the high energy field. It was a very intense session with strong messages from the higher energy for each of us to lead a wholesome and enriching stress free life. Another activity which tested the strength and endurance of each participant - The "Surya Namaskar Championship". This activity is one of the highlights of the programme and it has maintained its uniqueness till date. Thanks to an awesome display by the Super Siblings: Mahima & Shubham. Mahima reached the target of 51 whereas darling Shubham went on to hit a triple century. (325 to be exact). Lots to learn for the SENIORS. It was more special as Shubham was recovering from high fever and he was advised against doing this. But putting all the doubts to rest, he simply went on and completed 325 Suryanamaskars. Bravo!!! Shubham & Mahima. The competition saw average performance of around 25 -30 suryanamaskars per participant. The spirit of competitiveness was clearly dominant in the actions. A big lesson learnt from our little Shubham was that true champions are the ones who totally believe in themselves and pursue their goal relentlessly with seamless passion and commitment. Even though they both are Sadguruji's Children, they never took things for granted, and they were devotedly preparing for this competition, by practicing yoga nearly 45 minutes each and every day.
Even though, the format of this residential programme is somewhat same, but Sadguruji ensures that there is a lot of variety, some new games and many new learnings in the entire process. Sadguruji had devised a couple of new games and couple games were also played. We witnessed Dodge ball Competition for the first time, Standing Kho, Lemon and Spoon to name a few.
Further on it was a delight to experience the sunrise and sunset, amidst continuous chanting of the Gayatri Mantra. In the chilling hill station like environment welcoming sun God was a divine experience. The young stalwarts lead by Simran did a wonderful job of presenting a dancical celebration in a very short period of time.
The fancy dress, skit and dance performances added to all the fun and 'dhamaal masti' to the HTBH celebrations. The dance performances of all the participants deserve a special applaud as it was bliss to see young Simran & group as well as our evergreen Sandeep and Vaishali performing on the stage. The young stalwarts lead by Simran did a wonderful job of presenting a dancical celebration in a very short period of time. All this was truly awesome & worth experiencing.
A camp fire was organized on the third day, were all our negative traits were burnt. ( lit for clearing away all the negativities in our lives).Then the countdown for welcoming the New Year began with bursting of just only 1 cracker in a eco friendly manner. Everyone was blessed with a sweet Prasad from Sadguruji.
The 4th day morning was even more memorable for everyone because of the divine dancing meditation which is an experience of lifetime that cannot be described in words and takes one to a different world of bliss and harmony.
The session concluded after Sadguruji declared the winners of the events. Heartiest Congratulations to dear and young dynamic couple of Manali & Deepanshu Sharma for winning the BEST COUPLE Award! And the most coveted title of Miss. HTBH and Mr. HTBH was awarded to Bhaktavar Merchant and Sandeep Yederi respectively. They truly deserved it. This was indeed a proud and memorable achievement that would be cherished for a lifetime by both of them who truly deserve this.
Thank you Sadguruji for this wonderful and memorable HTBH programme. We offer our deepest gratitude at your lotus feet for a continuity to this fantabulous year end celebration with a complete spiritual base of total power packed entertainment.
Jai Gurudev!!