Vipassana Residential Camp
Image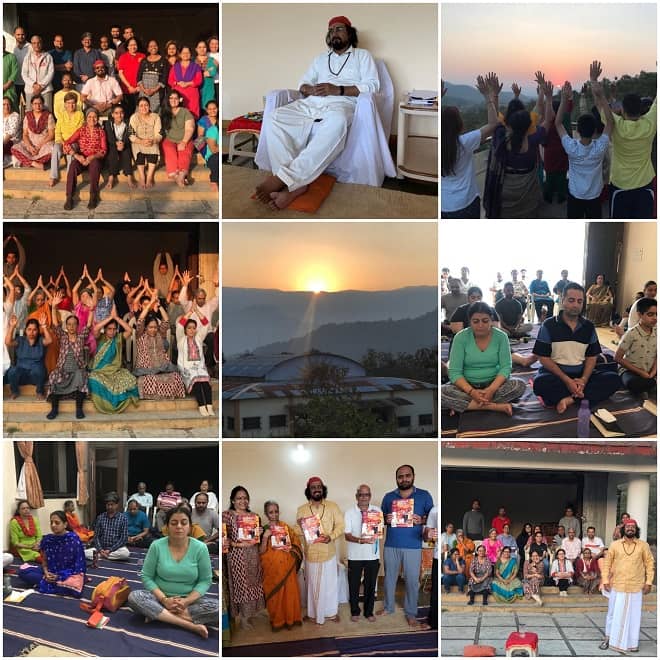 Glimpses of the intense Residential Vipassana camp conducted by H.H. Sadguru Yogiraj Dr. Mangeshda, at Spiritual Village (near Khopoli), in Jan 2020.
Vipassana camp sharing from Kavita Pradeep:
Hari Om. Words just cannot describe the experience we had at the Vipassana camp held at the spiritual village from 22-26th Jan 2020. In short THESE WERE THE BEST TRANSFORMATIVE DAYS OF MY LIFE! The age-old techniques of Vipassana so beautifully explained and simplified by Sadguruji. Step-by-step He held our hands through these five days towards mindfulness and how to make the most of one's time and amplify one's energy level; It's application to your daily routine and the effect it can have on your relations, both personal and professional. Not to mention, individual attention given to each and every one of us, noting and ensuring our progress every step of the way. Making certain that all our queries were patiently answered, both the spoken and unspoken ones.
My take-away from this camp are:
Knowing and being one with one's breath is beautiful
Silence is golden
That space between action and reaction has to be cherished
Vipassana is for every day, every minute, every second... for the rest of our lives.
As Sadguruji says, "Spirituality is Simple. Don't complicate it. Just practice it". Today, I want to humbly request Him to organise more of these Vipassana sessions in the coming months so that everyone can participate and benefit from it. Last but not the least, THANK YOU Sadguruji, I feel so blessed to be Your disciple and daughter.