91st Center Opening at Dombivali, HBDS & Meditation Workshops
Image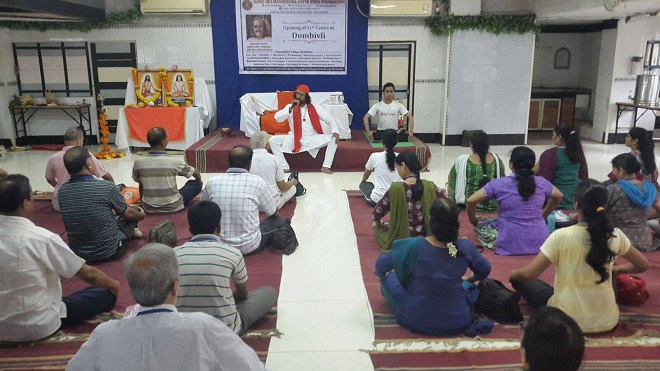 As narrated by Kriyaban Shri Hrishikesh Ambaye:
Hari om. A fantastic and jampacked opening of our 91st centre opening ceremony, concluded today at Dombivli. Reverred Sadguruji's arrival was eagerly awaited, and it was a beautiful sight to see Dombivilikar's, waiting eagerly to see, hear & experience Sadguruji's powerpacked teachings of pious ‪#‎Kriyayoga‬. Right from the start of the programme till the end,t here auditorium was heavily packed,and the infectious positive energy of the dynamic Dombivali centre team, was worth experiencing.. Super fast execution and flawless time management, ensured that everybody got to hear maximum of Sadguruji's pious teachings, and the crowd were left spell bound, by Sadguruji's mesmerizing teachings, which served as an Eye-opener to everyone in attendance, to the HBDS and Kriyayoga Dhyan Dharana programmes..
All those who attended the seminar and opening ceremony of our 91st centre, were completely, amazed to see a Sadguru, who is the epitome of fitness and poise, yet calm and profoundly deep in his knowledge answering all the participants queries without a single question being asked by them..Sadguruji's, unique and signature style of humor, mixed with his powerful teachings, made the content, very easy for the participants to understand and practice.. The 4 hour slot each, alloted to the 2 power packed seminars from the oceanic basket of Sadguruji, was way to less for the participants, since they just didn't feel like leaving the hall after the first batch was over at 12 noon sharp..as a result of which the afternoon Seminar of 1 to 5 was overbooked and most of the participants, who had participated in the HBDS, extended their reservations for the Kriyayoga Dhyan Seminar. and the auditorium was over crowded. The impact of Sadguruji's teachings were so profound, that, even when Sadguruji gave breaks in between, for participants to refresh, they were urging him, to continue and they were cancelling the breaks, as well, to hear more And more of Sadguruji's teachings.. Words and paragraphs will keep falling short for expressing the beauty of today's grand 91st centre opening and the 2 powerful workshops conducted by Sadguruji ad part of the opening ceremony.
The dedicated efforts of our dynamic and energetic KRIYABAAN team of Dombivili, was highly noteworthy, burning the midnight oil for almost a month in advance and doing aggressive campaigning, across the city of Dombivili, resulted in people attending the seminar not just from dombivili, but, from extreme far away places like virar, and they reached the dombivili venue way before time..v
Overall, a fabulous and high octane Centre launch with a higher benchmark platform being set, on centre opening ceremony, by Dombivili centre..
Kudos to kriyabaans Pradeep, Vaibhav, Urmila, Bhagyashree, Ravi & Yogesh.all of whom unitedly worked to welcome Sadguruji's holy feet on the soils of Dombivili. A very refreshing and memorable event and looking forward to the next grand opening ceremony, whenever Sadguruji declares the dates, with yet another landmark opening ceremony.
Image