Mumbai Marathon for Peace and Eye Pledge Awareness
Sadguru Mangeshda Kriya Yoga Foundation, recently conducted 'Mumbai Peace Marathon' on 7th Jan'18 in association with Vivekananda Youth Connect and was aptly titled Run 4 Vivekananda. This marathon was to honour of one of India's greatest icons Swami Vivekananda, who inspired millions across the globe.
Sadguru Yogiraj Sri Sri Dr. Mangeshda, who whole heartedly not only participated, but was the guiding force in successfully arranging this mega Marathon event to inspire Mumbaikars to be remain mentally and physically fit, lead a healthy lifestyle and come out in large numbers to participate in the Peace Marathon consisting of 12 kms, 5 kms and 2 kms Walkathon.
This event was attended by eminent dignitaries consisting of diplomats, politicians, sportspersons, film stars, media heads, business leaders and thousands of enthusiastic Mumbaikars who from all across the city had assembled in huge numbers at Juhu at 5.30 am to take part in this Peace marathon.
Sadguru Dr. Mangeshda with Dr. Rajesh Sarwadnya of Vivekananda Youth Connect and other dignitaries flagged off the 12 km Marathon at 6.30 am, 5 km Marathon at 7am and then Sadguru Dr. Mangeshda lead the 2km Marathon rally with thousands of participants following him. It was a wonderful sight with banners and placards of Eye Pledge We Pledge Awareness campaign which could be seen for many kilometres. This Marathon was very well organised by SMKYF volunteers assisting the marathoners with water and first aid at various water stations spread across the Marathon. Other volunteers helped maintain traffic with the help of Mumbai Police and kept peace and order during the Marathon. All categories of the marathon finished at 8am and the winners in various age categories were honoured on the stage with medals and gifts.
Image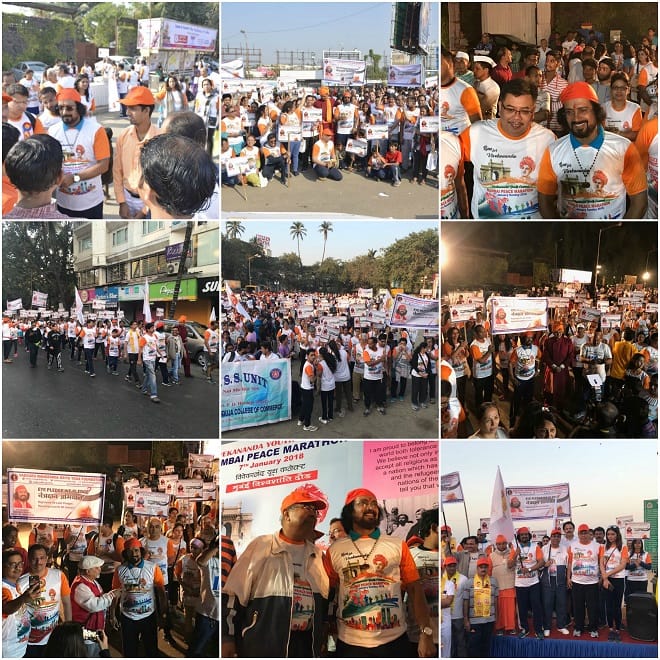 Sadguru Yogiraj Sri Sri Dr. Mangeshda educated the people assembled there regarding one of its highly successful social activities of SMKYF ie, 'EYE PLEDGE WE PLEDGE' Awareness Campaign, which in a short span of five years has got support of 48 lakh eye pledges from citizens all across India and also from some foreign countries. HE mentioned that with the support of like-minded individuals and Corporates, the target of 50 lakh eye pledges would be reached very shortly. HE also mentioned that this is an on-going process and it is the responsibility of everyone to help spread this awareness campaign so that corneal blindness could be eradicated at the earliest and that the visually challenged will be able to see the wonderful world that we inhabit.
Sadguru Dr. Mangeshda invited everyone to join this mission and mentioned that this being his 50th year of teaching yoga, fitness and healthy lifestyle, there would be numerous social activities this year across India and that 2018 has got off to a great start. Sadguruji Dr. Mangeshda thanked Dr. Rajesh, all the dignitaries on and off stage for their support, the media and also various organisations, participants, police and other state authorities for their support and looked forward to a huge turnout next year.
Dr. Rajesh in his concluding speech thanked Sadguru Dr. Mangeshda for his blessings, guidance and his active participation with his Foundation members in making this Marathon a grand success.